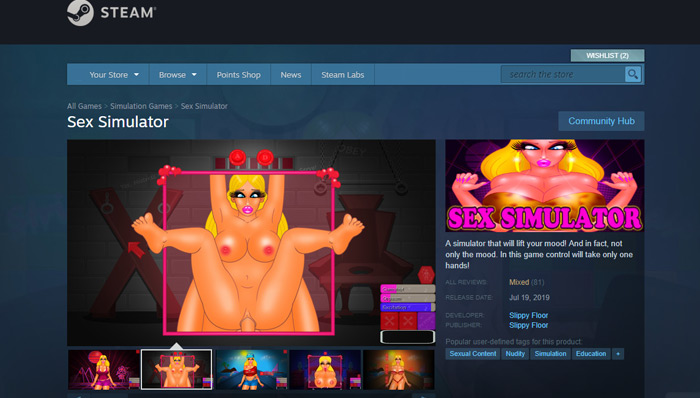 How Porn Games Have Become Mainstream
Nudity and porn in video games has been around since the early 80's even though the sex scenes back then only offered softcore porn to intensify or sell games. One of the earliest video games to feature sexual themes was in 1981 which was a text-based Softporn Adventure that did quite well in sales even though a lot of piracy occurred. As the porn industry kept on expanding, the sex gaming communities demands for more extreme storylines, sex plots and sex acts was sky rocketing and naturally the porn biz was eager to deliver.
Popular Hentai Toon Sex Games and Porn Parodies
Hentai sex games are exceedingly reaching higher levels of popularity which is definitely one of the major reasons why porn games has gone mainstream across the globe. For example, when the adult industry decided to put a pornographic twist to TV shows like The Simpsons and Family Guy it was welcomed by sex gaming fans around the world with open arms. Not to mention when well known games were turned into porn parodies and identified with new titles such as Grand Fuck Auto, World of WhoreCraft plus League of Legends Porn Games and so on.
Highly Addictive Interactive and VR Porn Games
When the modern day, porn games consumer was presented with the ingenious idea of providing subscribers the capability to partake in developing games the porn biz literally exploded. For example, the aptness to customize the girl of your dreams, create personalized sex scenarios plus most preferred sex action. It is all made possible with an array of options to build the perfect fuck doll such as picking out the hair color, the size of tits and butt and some games even have dress-up features. Virtual Reality porn games are making a huge splash on the sex games market as well. With VR reality sets such as the Oculus Rift and HTC Vive the members of such sites authorizes users to engage in virtual sex through simulated surroundings. According to avid, VR porn games fanatics this is the closest you will ever come to experiencing the ultimate of real life sensations. One of the most played Virtual Reality games on the worldwide, adult internet as of today is VR Fuck Dolls according to visitors and people creating accounts.
Females are getting in on the Porn Games Action Big Time
One of the biggest audiences has always been young men who almost immediately became extremely addicted to the exciting and sexually explicit world of porn gameplay. But according to researchers a huge number of females sign up to play porn games every day where now, the sex industry is focusing in on creating exclusive porn content that favors a woman's sex preferences and story lines.